Return to Headlines
Middle School Team Valor Holds Space Day
On Friday, January 13, students on Middle School Team Valor were visited by MOOG Aerospace Engineers. This presentation took place after a unit of study on Astronomy in Mrs. Kerl's science classes. Mr. Peter Kerl and Mr. Robert Bauer, Aerospace Engineers from MOOG Inc., came to the middle school and shared what they know about the past, present, and future plans for our space program.
Students learned about the Mars Lander Curiosity that touched down on the surface of Mars in August of 2012, the next generation of rockets, and our country's plans for trips to the moon and Mars. The students also participated in a game of Space Jeopardy. Students were treated to an exciting cryogenic demonstration using liquid nitrogen demonstrating how components that will be used in space travel are tested to determine how they react to the frigid temperatures of space.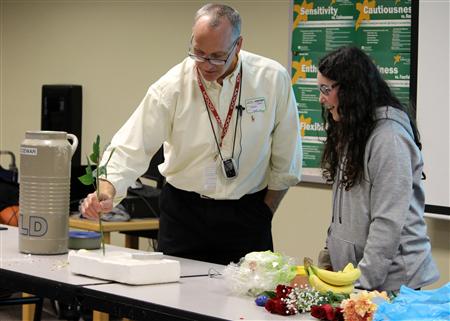 Mr. Robert Bauer and Anna Sheehan perform a cryogenic test with liquid nitrogen.
It was an exciting and valuable learning experience for all who participated. We think we may have inspired some future engineers and astronauts. Addressing the team, the visitors said, "We're just two kids from the suburbs of Buffalo working on stuff that goes into space. Just think, you might see one of our Lake Shore graduates going to the Moon then Mars and beyond!"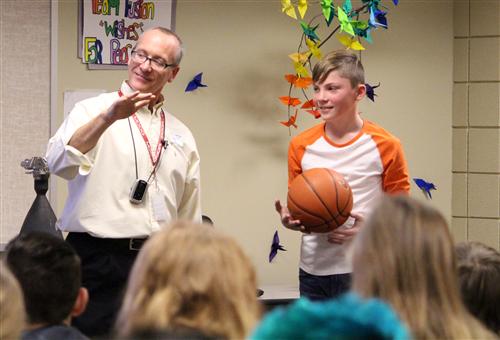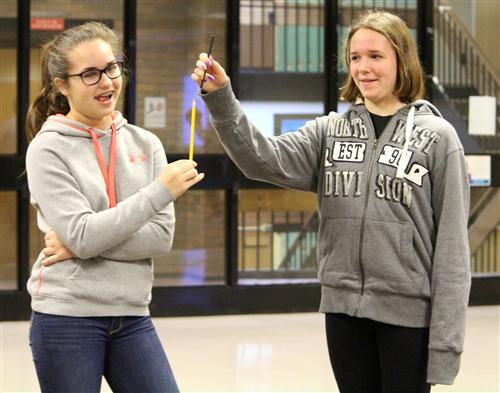 Kathryn Justinger, Brayden Jones (bottom) and Ethan Taylor (top) are modeling sizes and locations of objects within our solar system.