Return to Headlines
Lake Shore District Appoints Galluzzo Superintendent
The Lake Shore Central School District has appointed Charles A. Galluzzo, Ed. D. as Superintendent of Schools effective January 1, 2019.
Dr. Galluzzo comes to Lake Shore from the Williamsville School District where he spent the last 14 years serving as Principal of Maple West Elementary School. This school was designated as a National Blue Ribbon School, under the category of "Exemplary High Performing Schools" by the United States Department of Education in 2013.
Before his employment in Williamsville, Dr. Galluzzo was a Middle School Assistant Principal in Orchard Park School District as well as serving as the Principal of Windom Elementary for two years.
Dr. Galluzzo will be replacing James Przepasniak who has served as Superintendent for the last nine years.
"Mr. Przepasniak has done a tremendous job leading this district. We are grateful that he gave the District notice of his retirement to complete an extensive and thorough search to determine the next superintendent of the district. We needed an educational leader that would continue the work that has been started and keep us moving forward. We knew finding the next superintendent would be a huge challenge-with such big shoes to fill," Board President Jennifer Michalec said.
"We had extensive stakeholder engagement in the superintendent search process. Dr. Galluzzo answered questions and responded in ways that fit the direction we are heading. His passion, authenticity and curriculum knowledge drew praise from stakeholder groups." Mrs. Michalec said.
"I feel connected to the Lake Shore School District, my grandparents lived in the District, and I have family there. I've spent a lot of time in the District, and I know the community cares deeply for its children. At this point in my career, Lake Shore was the only place I was looking to apply—it's the place I want to spend the rest of my career," Dr. Galluzzo said.
The diversity of the District and the on-going work to meet the needs of students is exciting. I am looking forward to becoming a part of the Lake Shore School community and working with students, staff and the community-at-large," Dr. Galluzzo said.
Dr. Galluzzo holds Permanent School District Administrator Certification, Special Education K-12 Certification and Nursery, Kindergarten and Grades 1-6 Certification. He earned his Bachelor's of Science and Master's in Education from the State University of New York at Buffalo. He earned his certificate in advanced study in Educational Administration from State University at Brockport and his Doctorate in Education from the State University of New York at Buffalo.
Dr. Galluzzo begins his four-year contract on January 1, 2019.
Dr. Galluzzo and his wife have been married twenty-five years and have two college-age children.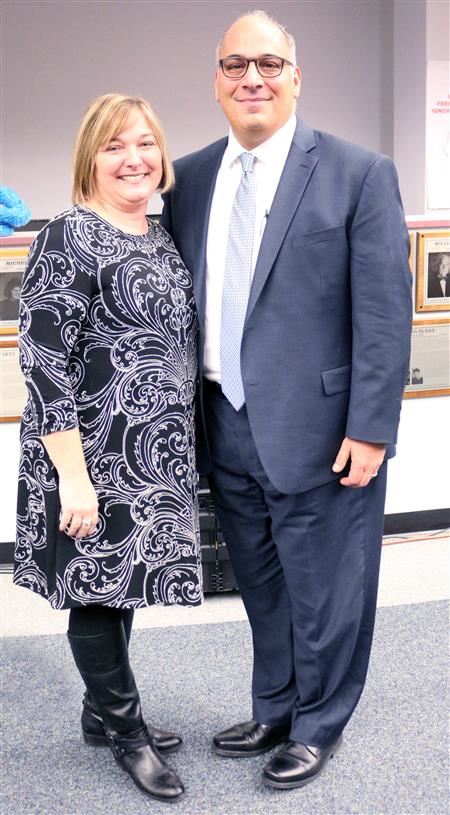 Picuted Dr. Galluzzo and Lake Shore Board of Education President Jennifer Michalek.