Return to Headlines
LSHS Celebrates Mary Kromer on NCAA National Signing Day
Signs with Mercyhurst To Play Women's Division 1 Ice Hockey
On NCAA National Signing Day, Lake Shore High School celebrates Senior Mary Kromer as she signs her National Letter of Intent to attend Mercyhurst University to play Women's Division 1 Ice Hockey.
"In my 14 years as Athletic Director, she is one of the most well-rounded, well-respected, motivated and enthusiastic individuals I have encountered," said Daryl Besant, Lake Shore High School Assistant Principal and Athletic Director. "She's extremely likeable and just somebody you admire and can root for and you know her accomplishments are just beginning."
Mary, daughter of Michael and Tracy Kromer, is an Honor Roll student and President of the Class of 2020 and Treasurer of the National Honor Society.

Currently a member of the Stoney Creek Junior Sabres (Stoney Creek, Ontario, Provincial Women's Hockey League), she also has been active in Frontier/Lake Shore/Orchard Park (FLOP) Girls Varsity Ice Hockey (2016-19).

She was WNY Girls Ice Hockey Federation Champion in 2017, 2018 and 2019; NYSPHAA Girls Ice Hockey State Champion in 2018; Section 6 Girls Varsity Ice Hockey Champion in 2017 and 2018; and NYS Girls Champion March 2018/Niagara Purple Eagles.

She has Varsity Letters in both Ice Hockey and Tennis, and was named MVP in Lake Shore Girls Varsity Tennis, where she was team captain in 2017, 2018, and 2019.
With a GPA of 4.0/97.224 and Class Rank of 4/196, Mary's academic goal is to earn a degree in biochemistry and pursue a career in the medical field.
In addition to her achievements in academics and athletics, Mary participated in the 2019 Youth Climate Change Summit and is a founding member and President of the Lake Shore Green Eagles, the High School's environmental club.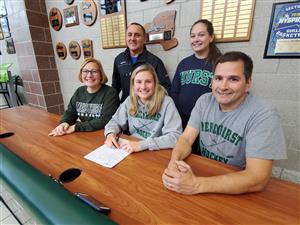 Front: Mary Kromer flanked by her parents, Tracy and Michael.
Back: Mary's coach, Bob Klimowicz, and her sister Madeline. (Sister Emily was also present, via FaceTime).