Return to Headlines
Lake Shore High Hosts Future Workforce Readiness Fair
The Lake Shore Leadership in Action class, in collaboration with Lake Shore Integrators Mr. Mike Drezek and Mrs. Deann Poleon, recently hosted a networking night for the Lake Shore Freshman Academy students and their parents.
Students and their parents were able to learn about careers and what technical skills are needed in the workforce from local employers. Students also presented on up-and-coming careers that will be prevalent when the freshman class enters the workforce.
The highlight of the night came from motivational and keynote speaker, Mr, Brad Waid. Waid, originally from Detroit, spoke about the jobs of tomorrow and what technology, engineering and hands-on skills we will need to live and work in such a changing world.
While parents and students were at times overwhelmed by the technology that is already here, Mr. Waid's enthusiasm helped to comfort and educate them so that they can be ready and successful in the world of tomorrow.
The Leadership in Action students planned, advertised, communicated and organized this event. The Future Workforce Readiness Fair would not have been possible without their hard work.
A special thanks goes to Mr. Waid, the Lake Shore Board of Education and Administration, Mrs. Poleon, Mr. Drezek, and all those who attended. The hope is that the Class of 2023, and their parents, learned a lot and are excited for the future that awaits.
Mr. Brad Waid educated and excited the Lake Shore Class of 2023 and their parents about the ever-changing world of technology and how it will impact their careers in the future during the Future Workforce Readiness Fair.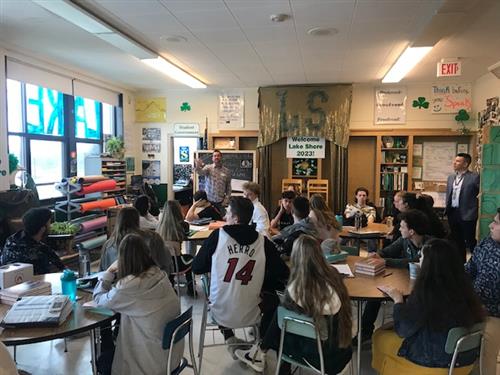 Leadership in Action students worked with keynote speaker Mr. Brad Waid, to plan, advertise and facilitate the Future Workforce Readiness Fair for the Freshman Academy students.