Return to Headlines
Rocket League Makes Its Mark In Inaugural Esports Season 2021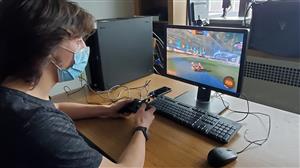 "The first ever Lake Shore Eagles Scholastic Esports team made the school community proud in 2021," says Technology Integrator Michael Drezek. "In addition to dedication and effort in getting the program off the ground, they created a culture of collaboration and teamwork and set the foundation for future students to positively contribute to scholastic esports at Lake Shore."
Gathering on Tuesdays for weekly practices, training and scrimmages against schools around the country were team members senior Gianni Dalton; sophomores Nick Densmore, Dylan Gavigan, and Jacob Jowsey, and freshmen Pablo Montealegre, Ethan Raczka, Giuseppe Todaro-Tucker, and Romeo Vega. Regular Season matches (Best of 5 series) were held on Thursdays after school.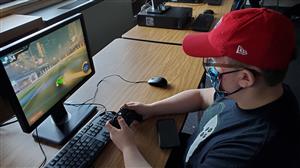 Lake Shore finished tied for 6th place in a field of 16 teams before advancing to the New York State Regionals (US East). After a tough matchup against Long Island's Uniondale High School, the inaugural season came to a close.
"These players grew as a club and team while navigating the world of scholastic, competitive esports under the North America Scholastic Esports Federation (NASEF). The team connected regularly over Discord as they planned and organized for match week," says Mr. Drezek, adding, "The team is made up primarily of underclassmen. This won't be the last you'll hear of this team."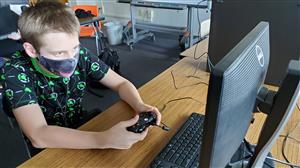 Mr. Drezek and fellow co-manager Deann Poleon are excited about what lies ahead. There are plans to grow, with an esports computer lab where the team can practice, compete and also offer space for non-players to get involved with live-streaming, media design, communications, fundraising, and more.
"The story behind this first Lake Shore Esports team was their willingness to jump into something new, their compete level and their perseverance against tough opponents," says Mr. Drezek. "As 'the new kids on the block,' they surprised several of their opponents along the way, and they're already making plans to improve their game with hopes of a deeper playoff run in October 2021."
While this season consisted of Rocket League as a season title, the Fall 2021 and Winter/Spring 2022 seasons next school year may bring new titles and opportunities with schools from around the country. Special thanks goes to Erie 2-Chautauqua-Cattaraugus BOCES for supporting Lake Shore in this effort, and the LSCSD technology team for their assistance throughout: Prashant Sakpal ,Ryan Przepasniak, Ryan Nellis, and Tom Spada.
If you're curious to explore more about what's behind Scholastic Esports, check out: https://www.nasef.org/learning/career-pathways/ and https://nasef.leaguespot.gg/league.