Return to Headlines
Grant to JTW Library Helps Create Environment for Cultural Knowledge & Belonging
Funds Will Help Expand Diversity in Library Holdings

When J.T. Waugh Librarian Karleen Derrick saw the announcement for a $500 Diversity in Collections Development Grant, she knew exactly where it should go. It should go to her library in her school for her students.

"J.T. Waugh needed a more diverse collection that represents our student population," she says. The
school's Native American population has been increasing with every new school year, and she wanted to enhance the area of indigenous inclusion.

"I want our students to be able to relate to the characters in the stories and to feel a sense of belonging," she explains. "With a Native American population that is nearly 40 percent of our school community, we need a collection of books that represents all of our students."

The school library already has an assortment of Native American legends, folklore, biographies and non-fiction. What it doesn't have are books showing Native Americans as central characters "living" in the story. Not only that, points out Mrs. Derrick, it's an old collection - the average age of the books is 20- plus years.

"Changes in the way Native American culture is portrayed have opened a dialogue with our students about how little we actually know about our classmates and their culture," she says. "Our students are very proud of their culture and this helps create an environment in which they can share their experiences."

Her plans will soon come to fruition. Representatives of the WNY Library Resources Council High School to College Committee visited J.T. Waugh to present her with the check for her winning grant application. The grant will be used for acquisitions to help build a community of inclusiveness and connectivity at J.T. Waugh. And it won't stop there. "The collection will be shared among schools, districts and all programs associated with Native American Heritage," says Mrs. Derrick.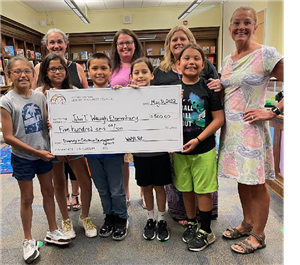 In the photo are, front, from left: J.T. Waugh students Lealyn Huff, Star Thuman, Emery John, Milo Tallchief, Kendrick Kennedy and Principal Paula Eastman with, back from left, Melissa Laidman and Mary Jo Sicurella, from the WNYLRC High School to College Committee, and Librarian Karleen Derrick.