Return to Headlines
A Look at the Sound of Music at Lake Shore Schools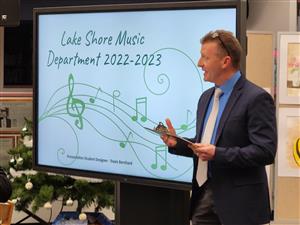 High School Band Director Eric Blodgett
presents a PPT about the Lake Shore
music program to Board of Education
members and District administrators.

In addition to music theory (including AP), guitar and piano instruction, Lake Shore High School boasts a Show Choir, Jazz Ensemble, Pep Band and a Musical that packs the house each year. There's also a Mixed Chorus, String Orchestra and Symphonic Band.
"I can't tell you how dedicated these kids are and it starts at the elementary schools, builds to the Middle School, and without that, it just wouldn't be possible," High School Band Director Eric Blodgett told the Board of Education on Tuesday night.
He noted that with a full-time general music teacher now at each elementary building, the music department is moving closer to its goal of aligning musical experiences K-5, including experiences like African drumming, piano keyboarding, handbells, Orff Schuelwerk and Chorus. And students are responding with vigor: more than 150 students are in the Elementary 4th/5th Grade Band. More than 90 are in the Elementary String Orchestra.

Once these elementary students reach Middle School, they still have foundational music instruction, but things also get more specialized, with the Grade 6-8 Band, String Orchestra, and Chorus groups. "Over 40% of the building, that's more than 200 kids, participate in our Middle School Ensembles at the advanced level outside of general music," said Mr. Blodgett.
The students' music experiences aren't confined to the school buildings. They perform for senior citizens and at community events, and travel to perform and compete locally and nationally.

They participate in All-County voice and instrumental auditions, as well as Area and Conference All-State voice and instrumental auditions and (if selected for Conference), All-National auditions. Mr. Blodgett noted that 10 elementary students were selected for All-County Chorus, and six Middle School students were selected for Area All-State.

"Approximately 30% of Middle School students will audition for All-County," he added. At the High School, 10 students were accepted as Area All-State Musicians, and about 40% of students will audition for All-County. One High School student was even selected for the Conference All-State Symphonic Band and the All-Eastern Band.
"The High School Band has commissioned internationally-renowned composter and film orchestrator Rossano Galante to compose a piece just for Lake Shore's music program. The world premiere performance of our piece will take place at the High School Spring Concert on June 6th," he said.
"New students are joining or re-joining our programs every month," he said, concluding with thanks for the financial support for instruments, music and repairs; assistance from custodial and grounds staff, and to the parents and students of Music Boosters "for their commitment to music in our schools and continued and unwavering support."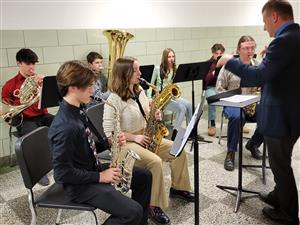 High School Band Director Eric Blodgett
conducts the school's Chamber Ensemble
in a selection of holiday music prior to the
December Board of Education meeting.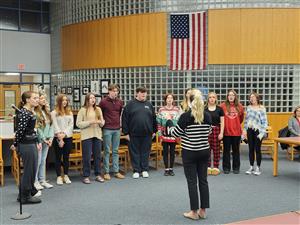 Under the direction of Deanna Civilette,
Chorus and General Music Director,
the High School Show Choir sings the
national anthem after the Pledge of Allegiance
at the Board of Education's December meeting.