Return to Headlines
JOM Teacher Vanessa Parker: Helping Students 'Go out into the world and do amazing things ...'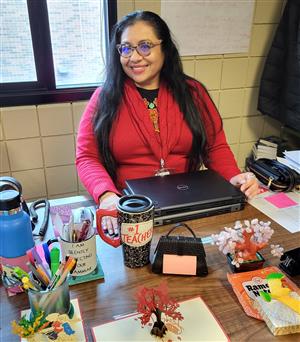 Vanessa Parker, Middle School JOM Teacher
Vanessa Parker grew up on the Cattaraugus Territory. She spent most of her life here and went on to SUNY Fredonia, where she received her bachelor's degree in education, then on to Stony Brook on Long Island, for her bachelor's in journalism.
She's done a lot of traveling and a lot of different things since then, including being a Johnson O'Malley (JOM) teacher at A.J. Schmidt in the late 90s, as well as a reporter and editor for a community newspaper in Nassau County and an assignment desk editor for a downstate cable TV station.

Since January, however, she has been back at Lake Shore, this time as a JOM teacher at William G. Houston Middle School, where she hopes to inspire students to "go out and do their own amazing things in the world."
JOM is a federal grant-funded program through the Seneca Nation that provides educational support for Indigenous students. Mrs. Parker has been working with more than 50 students, getting to know them and assessing their learning styles and what academic supports could be most helpful.
"Students come in during study halls, or after school if they want and if they have transportation," she says. "We work on organizational skills, or they may need help editing an assignment or having an assignment broken down and explained a little more."

Black History Month provided an opportunity for social studies enrichment activities focusing on Black leaders, ranging from Malcom X to Barack Obama. "We learned about who they are and what their quotes mean to us," she says. With those discussions comes work on writing and reading, and understanding and comprehension.

It's not all "book learning," though. Mrs. Parker also likes to introduce tactile activities into lessons. One recent activity involved adding different liquids to teeny orbeez "seeds" (made of super absorbent polymer) and seeing the effects.

To a large degree, the JOM program also is about making students comfortable with school and learning. "I want them to feel at home here," she says, "But also to understand that this is a school. We have rules and we follow those rules. We take care of ourselves, we take care of our environment and we take care of each other."


When all is said and done, she hopes her work leaves them "inspired to pursue their interests and be successful."
She wants them to know that their voices are important. "They have a voice and it matters and they can go out in the world and do amazing things and contribute to the world. I hope they know that they have so much to offer and when they leave school they experience that."