Return to Headlines
Middle School Math Teacher Named to Statewide Network of Master Teachers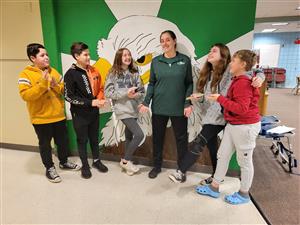 Very proud of their teacher! 7th graders (from left) Ben Houston, Cayden Schuster, Ella Lodestro, Bryce Smith and Jayden Jasinski gather for a photo with their teacher Hannah Wawrowski (center) after learning that she has been named a New York State Master Teacher.
William G. Houston Middle School math teacher Hannah Wawrowski has been named a New York State Master Teacher, making her a member of a professional network of public school teachers with a passion for inspiring the next generation of STEM leaders.
Master Teachers are exposed to and grapple with ideas central to their Science, Technology/Computer Science, Engineering or Mathematics (STEM) discipline at advanced levels, beyond the level at which they teach, allowing them to enrich their own content learning and build connections across disciplines. They are recognized for their commitment and dedication to increasing their knowledge of content, pedagogy, and the students, families, and communities that they serve.
Selected applicants commit to a minimum number of professional development activities, as well as their district and state requirements, and agree to a four-year commitment.

"One of my foundational philosophies is we ask students to push themselves and go out of their comfort zone and I think we should model the same thing as teachers," says Mrs. Wawrowski.
In addition to having a deep understanding of professional knowledge for teaching, Master Teachers continually evaluate, refine, and adapt their practice to better meet the needs of their students. Mrs. Wawrowski notes that she's "not just big on college and career readiness but also on being a good, productive citizen, spreading kindness, empathy and helping others. We all work together. Eventually, I want to bring this to the community – for my students and my colleagues – and help build that school-community relationship."
Mrs. Wawrowski says she wants to provide students with experiences so they can see "what's out there in the world and what their brains can do, even if they don't think they can. Once they realize what they can do and buy into it, it's amazing the progress you see and the results that come out of it."

Mrs. Wawrowski is one of 221 educators from across the state selected this year to join this elite network of master teachers, which was created in 2013, and now numbers more than 1600 educators.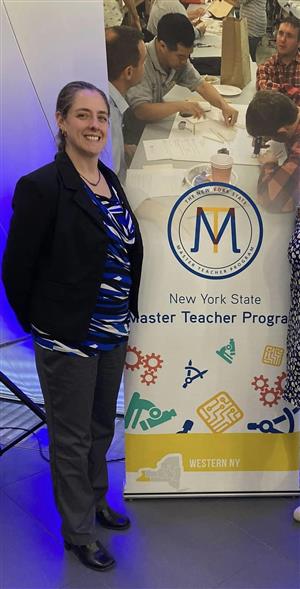 Hannah Wawrowrski stands beside Master Teacher signage.