Return to Headlines
A Positive Pause ... Big News from the Bill Sills Family
Sills Family Announces New Addition
An impending birth is always big news, but JT Waugh 3rd grade teacher Bill Sills and wife Trisha shared their announcement in an especially big way - on national TV while appearing with their children Trisha and Brody on the Today Show's 'My Today Plaza' segment.
Four-year-old Riley (soon to be five!) and two-year-old Brody actually revealed the news, brandishing posters announcing that they would soon become a big sister (again!) and a big brother (first time!).
Mom Trisha allowed as the quarantine helped keep things under wraps for a while, but the time had come to share the news. Now we know - and so do all the viewers of My Today Plaza!
Congratulations to the Sills family!
Watch their announcement HERE.
The Richness of Negative Space
High School art teacher Megan Smaldino shares a slideshow of student work based on the "Room to Breathe" project...in relation to Covid 19 and how students are finding "space" in photography. "The 'empty' areas are as valuable, if not more valuable, than the focal point in the frame." See their work HERE.

$722 Donated to Local Charities
WKBW-TV's Rebecca Thornburg interviewed J.T. Waugh teacher Nicole Wegrzynowski about the 4th grade kindness entrepreneurship's distribution of $722 in profits to the Lake Shore Family Support Center, the Eden North Collins Food Pantry, Feed America, and WNY Feeds the Frontline. See the clip about how the Kind Kids Compliments business keeps spreading kindness HERE.

Dona Nobis Pacem
A Wave of Greetings and Balloons
It was a wave of drive-by greetings and good wishes when AJ Schmidt Elementary School had its non-spectator parade last week, going from the Lake Erie Beach Fire Hall to AJS. Evans Police escorted the parade, along with Lake Erie Beach Fire Department Chief and Lt. Heath. AJS faculty and staff were in their decorated cars - Patti Pinto donated the balloons for each car, and Kim Prizel's husband recorded the parade. The balloons were not released but taken by faculty to random children's homes and left with notes of encouragement. HERE is the video of the parade. #AJalltheway!
Gracefully Navigating A Trying Time

There will be a FREE 45-minute live video call "MINDFUL PARENT, RESILIENT CHILD," with Dr. Christopher Willard at 2 pm, on Saturday, April 25. It's a nice opportunity to get some insight into how to gracefully navigate this trying time.
If you cannot attend, you can get a link to the recording. See their
web site
for more information and to sign up.
Dr. Willard is an author, educator, and parent who teaches at Harvard Medical School and serves on the board of the Mindfulness in Education Network and the Institute for Meditation and Psychotherapy. An established speaker in both meditation and psychotherapy communities, he regularly leads workshops around the world.


Lake Shore Bus Drivers Create Video Greetings for Their Students

Lake Shore's bus drivers miss the students they are accustomed to transporting to and from school every day. They created posters and signs and gathered their well wishes and greetings in this video. Watch HERE to see their familiar faces and good wishes!


Your Teachers Cheer You On!

A.J. Schmidt students, do you know how much your teachers love you and miss you? They miss your smiling faces and your laughter and they are so proud of the work you're doing at home. 5th grade teacher Lori Wunder made this video of them telling you so and cheering you on!


Promotes Blood Donation in Podcast
High School health teacher Rosanne Schaller was recently featured in a podcast promoting blood donation through Connect Life! See the podcast HERE.
Sewing Masks in the Fight Against COVID-19

Travis Bernhard loves to sew and the Middle School 8th grader is doing his part in the fight against COVID-19. He has sewn more than 50 protective face masks. "So proud of him!!," says Middle School assistant principal Katy Berner-Wallen. Thank you, Travis!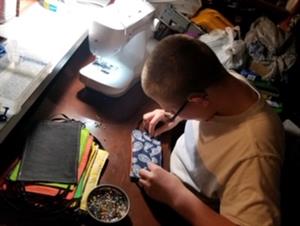 Sending Love, Laughter and Eagle Pride
The faculty and staff at A.J. Schmidt Elementary School wanted to send their love, along with laughter and Eagle pride, to all the school's students and families. Teacher Lori Wunder created this collage with greetings from all. See below or click HERE to see it!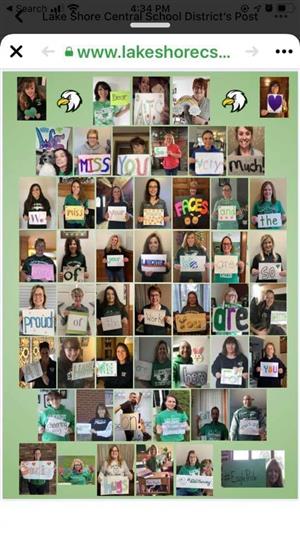 ... Coach Lyford is highlighting one senior a day!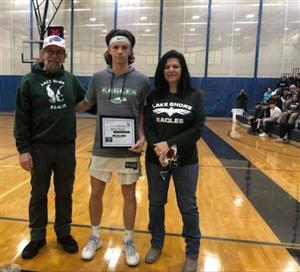 The Boys Basketball team could not have an end-of-year banquet, so Coach Lyford will be highlighting one senior a day and tweeting about him. Today, Coach Lyford starts with Bryan Rechin: "This was his first year playing basketball at Lake Shore. His work ethic was a great model for our younger players. He came ready to work every day. Bryan, I know you are a hockey/baseball player at heart, but thank you for allowing me to coach you this season!"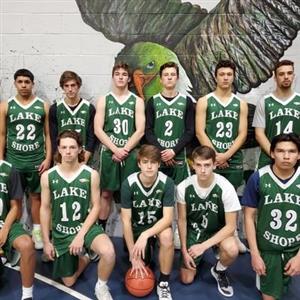 "Today's senior is Zach Cervola. Zach has been in our program since modified. Cervi is a dedicated young man with a great attitude! He always has a smile on his face. I'm going to miss watching you stuff Tyler in practice! Cervi always made the best of every opportunity."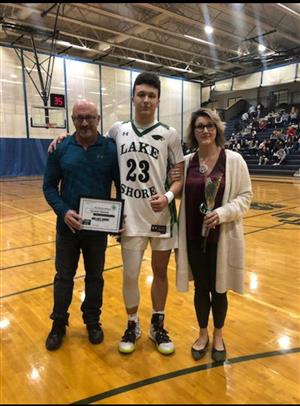 "Our next senior is Thomas Michael. This is Tommy's 2nd year with Lake Shore Basketball. This was a breakout year for him as he took home the MIP award. He scored in double digits 6x with his biggest game against Cheektowaga (14)! I'll never forget your dunk on senior night! Thomas continuously works to get better and to make the guys around him better. His focus, determination and competitive nature are unmatched. He is the ideal 'coachable' young man. Thank you for joining L.S.C. basketball and allowing me to be your coach. Good luck at Alfred State."
This is part 1
of a beautiful work in progress ...
"This is Part 1 of 'Down In The River To Pray,' says High School music teacher Deanna Civilette. Her students in Mixed Chorus (grades 9-12) are learning the piece in sections, four total. Section 2 is in the works. Show Choir singers are also learning bits and pieces.

"I plan to put the audio to a collage of selfies from the students when it's all recorded," says Miss Civilette. I'm very proud of the students who are participating, they're doing an awesome job!"


https://www.lakeshorecsd.org/cms/lib/NY19001770/Centricity/Domain/4/Down In The River To Pray - Part 1.mp3

Shout Out from Highland
Music teacher Todd Creech took to music and song to remind everyone that "Highland has Heart!" Highland students, be sure to wait at the end of your driveway to wave to your teachers on Saturday, April 11 as they go by in their cars in the Highland Has Heart Parade. The parade starts at 11 a.m. Check out the school's Facebook page for details on the parade route!
SHOUT OUT to AJS Students!
The faculty and staff at A.J. Schmidt Elementary School want all their students to know they are missed - they gathered online for a screen shot to let you know they miss you and are thinking of you!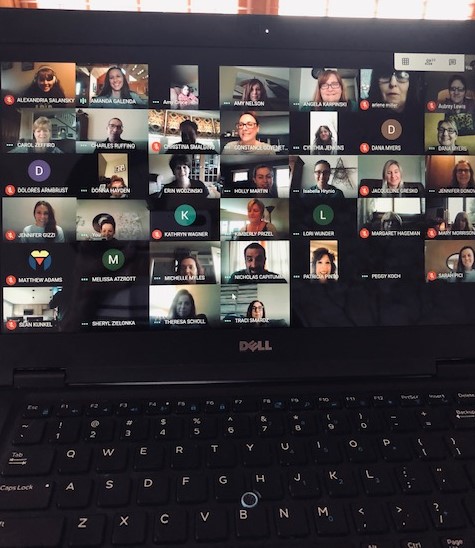 Lake Shore Grad Sending Homemade Masks to Hospitals Across New York

Where there's a need, Molly McCabe (LSHS Class of 2018) is there to pitch in.
Here are some photos of Molly making facial protection masks, which she is sending to hospitals all over the state. She gets requests and then sends wherever she can! Her Mom is a Home Ec teacher at North Collins, so sewing and helping both probably come naturally! Thank you, Molly!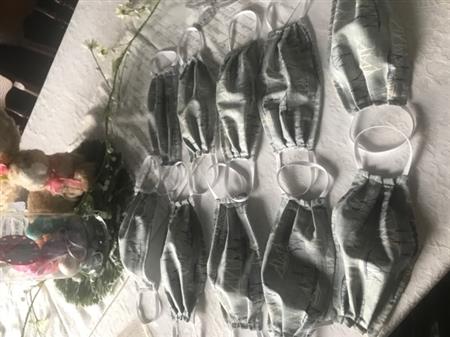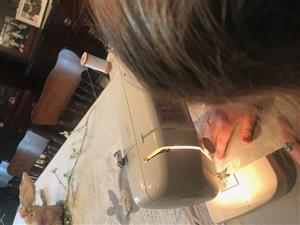 Lake Shore Celebrates A Virtual Spring Homecoming!
With everybody at home, what better time to have a Lake Shore Central School District Spring Homecoming! Here are some photos from Spirit Week, conducted during last week's Virtual Spring Homecoming, organized by Leadership in Action teacher Jeff Connors. Click HERE to see the gallery!


Did you know ... Highland principal Colleen Politowski is hosting cooking demonstrations on the school's Facebook page ... join her on Facebook Live at noon on Monday and cook along as she prepares mini pizzas! At noon on Tuesday, she will prepare handheld taco cups. Yum! The ingredients you will need are listed on Highland's Facebook page. https://www.facebook.com/pages/Highlanhttps://www.facebook.com/Highland-Elementary-School-114086660227181/


J.T. Waugh Students: Your Teachers Love You and Miss You!
This video was created by 5th grade teacher Paul Hornberger to bring greetings and good wishes to J.T. Waugh students from their teachers.

Shout Out from Middle School Teachers
This video was created by Middle School assistant principal Katy Berner-Wallen to bring greetings and good wishes to Middle School students from their teachers.
An Uplifting Eagle Fly-By
This video created by High School English teacher Jill Morgan brings messages to all from several of our High School teachers!


Sharing Our Eagle Hearts Everywhere!

Today's Positive Pause features photos of Eagle hearts that students and families have made to "spread the love" and show the community that all of us are in this together. Pictured is Irelynn Garlow, a 4th grader at Highland Elementary, along with many examples of the projects that have been created.
School social worker Nicole Phillips notes that it is a way to spread some smiles during a difficult time!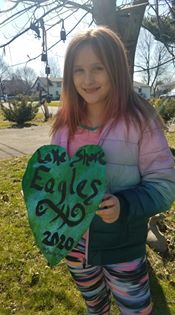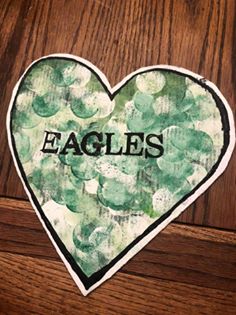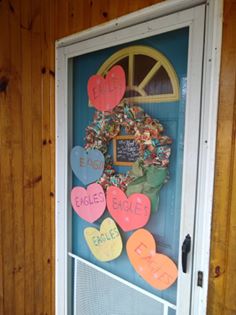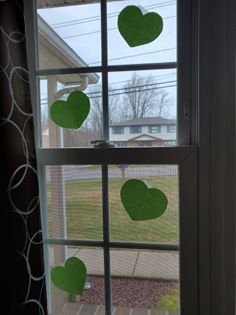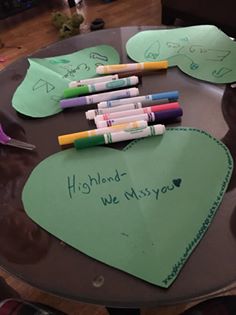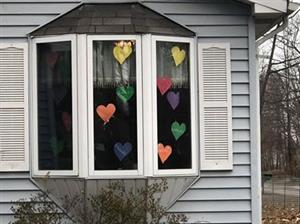 The Eagle hearts are a great way to show love and support for each other while giving young children something fun and creative to do.
Just put a heart in your front window. That's it! Color it, paint it, cut it out, or print from your printer. Make it another fun project for your kids.
As long as we practice appropriate social distancing, we can take a walk (or even bike ride or drive) around the community to see how many Eagle hearts we can find, get fresh air and momentarily forget about the stresses around us.
Many local communities are doing similar projects, so let's all join in on the fun!
'We Are the World'
Taking a "positive pause" from the challenges of COVID19, here is a video made by students in Mrs. Crupe's class before the holidays. It is a rendition of "We Are the World," performed by 4th graders at Highland Elementary School. At the time, it was created in response to a challenge from a school in Scotland. Mrs. Crupe thought it might be a bright light for people to see if we post it now. Here is the link: https://www.wevideo.com/view/1621718048