Return to Headlines
Middle School Students Become Hockey Scholars
In February, Lake Shore Middle School seventh-grade students traveled to First Niagara Center in Buffalo, NY to take part in a Future Goals: Hockey Scholar STEM (Science Technology Engineering Math) event. This event was sponsored by both EverFi Inc. and the National Hockey League® (NHL) and took place during a Buffalo Sabres™ team practice. Students were provided with an engaging way to reinforce STEM applications being learned in the classroom. This digital program teaches students about STEM concepts through a series of 12 interactive units and all seventh-graders participated.
The course utilizes an exploratory learning approach, exposing students to foundational STEM concepts, scientific thinking and data/graphical analysis through real-life applications. From examining the radius of the hollow on a skate blade and altering variables in skating experiments to exploring the potential/kinetic energy of a puck drop during a face-off, students are working their way to being "hockey scholars." Before the trip, students brushed up on their knowledge of STEM concepts and hockey skills through an interactive team quiz challenge. Certified students successfully completing all 12 units of the hockey scholar program were also recognized at this time as they received certificates from the NHL.
Upon arrival at the arena, students were welcomed by Sabretooth (Team Mascot). The event kicked off with a STEM panel discussion with Brian Duff (Broadcast Host), Martin Biron (NHL Alumni), Kevyn Adams (NHL Alumni), Dave Williams (Equipment Manager), and the team ice technician.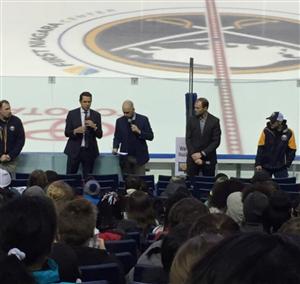 Panelists discussed the evolution of the sport as a result of technology advancements including specific math and engineering examples. Students had a chance to get behind the scenes and ask questions to the panel. The team even shared how they were using stroboscopic glasses to assist with eye training for goaltenders. The presenters also encouraged students to become the next innovators that utilize their passion for learning and STEM to revolutionize the sport.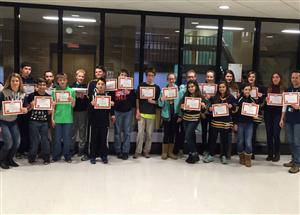 As students enjoyed the Sabres practice and team breakaway challenge that followed, they had a chance to witness STEM in action and cheer on some of their favorite players. Students will now look at hockey in a whole new way thanks to Future Goals.
For more information on the Future Goals Hockey Scholar program visit: www.futuregoals.nhl.com.