Return to Headlines
Computer Science Club Explores Microsoft on Field Trip
Lake Shore Middle School students participating in CS (Computer Science) Club led by Technology Integrator Mr. Drezek took part in a field trip to the Microsoft Store at the Walden Galleria. This trip was a culminating activity that highlighted various computer science applications through coding. Some say coding is the closest thing we have to a real world "superpower" and students certainly developed and proved their powers over the course of the year.
The club has been working during 10th period on a collection of interactive programs using Google CS-First, which uses Scratch, a program developed by the Massachusetts Institute of Technology Media Lab. A series of video tutorials help students gain an introduction to coding principles. From here students build, test and revise their programs to success. Students are given the opportunity to go beyond the basics and customize their programs. All students did just this. Adding built-in timers, developing pixel art sprites (characters), creating loops, programming animated effects and designing functional buttons and counters were just a few things they did. The time spent in the computer lab was a great exposure to STEAM (Science, Technology, Engineering, Arts, & Math) concepts. All students experienced problem solving, critical thinking, dedication, teamwork, overcoming obstacles and creativity during this time.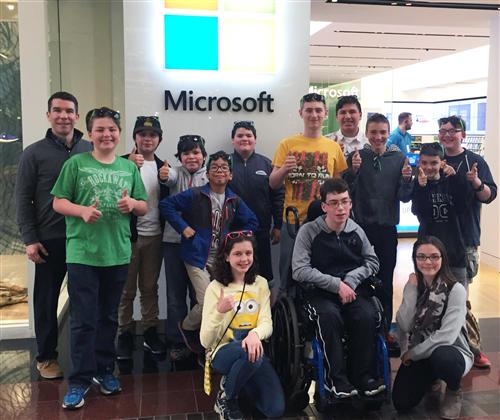 At Microsoft, students participated in a hands-on programming/coding session led by Microsoft staff. The event started with a welcome where students shared the skills developed at Lake Shore CS Club and why they liked it. After a storewide scavenger hunt, they learned how to write code within a program called Touch Develop.
Touch Develop is a tool students can use to create mobile applications that they can add to their own devices. Students used Scooter the Turtle to learn about objects, functions, and parameters. They learned the importance of iteration and syntax in coding. The frequent occurrence of mathematics helped them make connections to their math classes. Before finishing students had to test their knowledge by fixing the code to a game that was "broken."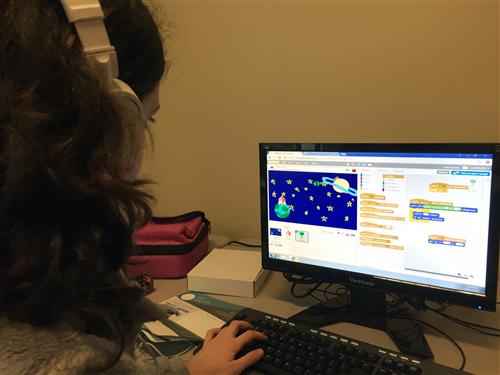 Upon the conclusion of the Microsoft trip, students attended their final CS-Club session, a programming showcase. Students shared a developed program they were most proud of, their struggles and their successes. Students also received an official Google CS-First certificate for their completion of the club. Even after the club had finished, one group of students was planning to team up and reprogram the popular mobile game Geometry Dash. Be on the lookout for future technology developers that started building their ideas and skills at Lake Shore.