Return to Headlines
Students Meet Best-Selling Author
The Lake Shore Middle School sixth-grade Library Skills classes used Skype to connect with author Tim Green. Students read his book, Unstoppable, in class and then had an opportunity to talk with him. Tim Green is an athlete, author, and lawyer. After playing college football for Syracuse University, Tim was a first-round draft pick of the Atlanta Falcons and one of their top defensive players for a span of eight seasons. He was inducted into the College Football Hall of Fame in 2001.
Tim has written over 30 books for adults and children, many of which have made the New York Times bestseller list. He has two series of young adult novels set in the sports of football and baseball. During our Skype session, Tim announced his most recent work that will be hitting bookshelves soon. He encourages students to get a good education, read more and have good character. Students asked him what advice he would give to kids who want to play pro sports.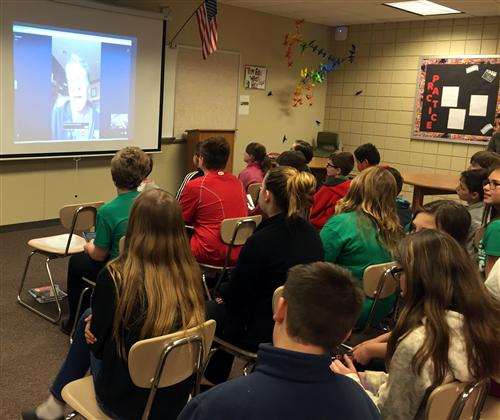 "I'll tell you what I tell my own kids," said Green. "The most important thing is to be a good and kind person. That's true success and with it comes relationships with wonderful people you love. Next, education is critical, go as far and as high as you can. I urge my kids to get graduate degrees, not just college. Make sure you focus on both of those things first, and then devote yourself to lifting, running and out-working everyone around you in sports. Realize though that to make it to the NFL requires more than just talent and hard work. It takes luck. You have to be at the right place with the right coaches and teammates and stay healthy."
Tim also gave students a homework assignment: to find someone different than them, perhaps someone they haven't met before and go out of the way to do something kind for that other person. Students were excited to meet Tim Green and enjoyed visiting with him. It is a rare opportunity when you read a book and then get a chance to interact with the author and ask him questions about the book through a live video conference. It was a great experience for all classes and for students to share what they learned with others.