Return to Headlines
Art Club Participates in International Project
The Lake Shore Middle School Art Club recently joined forces with Technology Integration to facilitate an International Project through Minecraft Edu. After connecting with educator and CoderDojo Club Champion Marco Vigelini from Instituto Comprensivo Di Allumieri in Italy, Computer Lab 328 was setup with Creatubbles and el Futurum Minecraft Mods to allow for this global collaboration. Students were able to bring their creativity and artwork into the virtual world of Minecraft. Participating schools connected during their school day in their respective time zones and were tasked with virtually building a representation of their communities and cultures.
"The aim is to show our children that other young people in the world, who may even come from a different culture or social class, are nevertheless all related by creativity," said Mr. Vigelini. "They have a way of sharing with each other the beauty of the places in which they live, by showing through art, what their countries or cities look like."
The students built a giant LS emerald block model to represent school letters, a virtual model of Niagara Falls including a switch that turned water flow on and off, a wampum belt, an American flag, a bounce house, a pixel art bald eagle to represent our national animal and school mascot, rainbow beacons, and a replica of Lake Erie covered in ice to represent our location and winter season.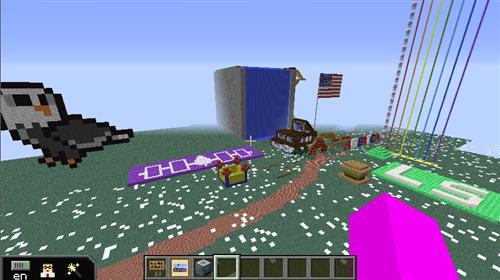 Students also used iPads to capture their created physical artwork to import into the virtual worlds and added portraits to an online replica of the Louvre Museum for students around the globe to view. The portraits were placed alongside artwork from schools in Vancouver, Canada and Sydney, Australia.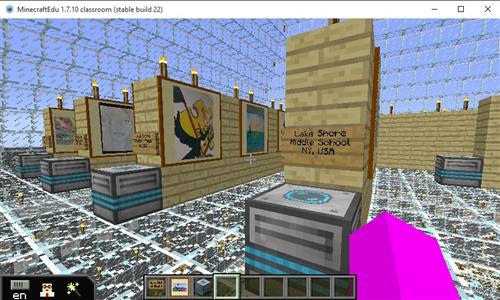 To date, the project has included schools from Canada, China, USA (Colorado, Nebraska, Minnesota, North Carolina, Virginia, Alabama, Hawaii), Brazil, Switzerland, Pakistan, Japan, Australia, Poland, Croatia, Nigeria, Italy and South Africa. It is an excellent example of collaboration and educational exchange between students. Overall it was an enjoyable experience of creating, sharing and learning. Lake Shore Middle School is happy to be the first school from New York State to take part in this project. We hope that it continues to build curiosity and creativity in students, lasting well beyond this project.