We're Hiring Bus Drivers!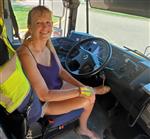 We're Hiring Bus Drivers!
Are you lookig for a great part-time job? Do you love kids? Lake Shore Central Schools are hiring substitute bus drivers. To be a substitute driver, candidates must be 21 years of age, have a clean driving history, and be able to pass a physical and pre-employment drug screen. Commercial driver license Class B is preferred, but the district will train prospective candidates. Starting salary is $19/hour. Click here to print out the application or pick one up from the transportation department, 8710 N. Main St., Angola. For additional info, call 926-2240 between 5:30 a.m. and 5 p.m.