A Message from Mr. James Przepasniak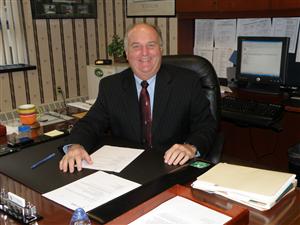 Welcome to what I know will be another exciting and stimulating school year at Lake Shore! I would like to express what a privilege it is to lead a District deeply dedicated to providing an enriching learning environment focused on student success. Our teachers, administrators, and support staff will kick off their year on August 28 with three days of professional development to jumpstart the education of over 2,400 growing minds that will pass through our doors.
Just like the start of every new school year, the 2017-18 school year brings with it a sense of excitement, renewal, and optimism. Walking onto each of our campuses, students and staff alike immediately feel the recognizable emotions of the beginning of a new school year. Thanks to summer-long efforts of our buildings and grounds team, our campuses look immaculate and add an enthusiastic feel that inspires us all to do our best in the classroom, stage, and athletic fields.
As we prepare for the first day of school we are mindful of the importance of student safety and the critical role we all play to ensure our schools are the safest place for students and staff. Over the summer, the Seneca Nation, Town of Evans and Lake Shore came together to make sure our School Resource Officer Doug Tubinis will be working with us for the next three years. Mr. Tubinis has a strong rapport with everyone in the District and we are pleased he will continue to be a mentor to our students and help keep our buildings safe. Please read the full story on page 10 of this Eagle Express.
Speaking of safety, for our families who use our transportation services, we ask that you make sure students have a safe place to be picked up by and dropped off. For those students who walk, please encourage them to use the town's sidewalks and obey all traffic rules on their way to and from school. Also be mindful of pedestrians when attending school events, not using mobile devices while driving, obeying all signage and street markings, and following instructions from any school staff directing traffic.
Lake Shore will be entering the next steps in our Capital Construction Project this year, and I know I speak on behalf of the Board of Education when I say we are all very excited about improving our campuses. With overwhelming support from our community displayed last Spring during the annual budget and Capital Construction Project vote, we are confident we will be changing student lives together, both in academics and extra-curricular activities.
It is my pleasure to serve as Superintendent of the Lake Shore Central School District where the quality of education is unrivaled and where we work towards continuous improvement to build "An Academic Powerhouse!" Together, we have the power to make positive impacts on the lives of all our students each and every day. It is up to us to support students in their challenges, remove any obstacles that may come, and prepare them to be college and career ready.
I look forward to working with you in achieving what we collectively want for students – success beyond the time they spend here at Lake Shore. On behalf of the Board of Education, we wish the entire Lake Shore family an exciting and successful school year!

Upcoming Events:
October 17 - Board of Education Regular Meeting at 7 p.m. in the Sr. High Media Center
October 18 - Project KNOW Parent Orientation - J. T. Waugh Elementary at 7 p.m.
October 20 - Lake Shore Boys & Girls Club Halloween Party - Middle School from 6-8 p.m.
October 21 - Middle School Color Run at 8 a.m.
October 23-26 - Project KNOW for Grade 5
October 23-31 - Red Ribbon Week
October 24 - Project KNOW Parent/Child Night - J. T. Waugh Elementary at 7 p.m.
October 26 - Highland Elementary Fall Festival
October 26-28 - Sr. High Drama Club Performance at 7 p.m.
October 27 - Middle School Fun Night from 6-8 p.m.
October 31 - AJS Halloween Parade at 2 p.m.
October 31 - JTW Halloween Parade at 2:30 p.m.
November - Native American Heritage Month
November 2 - Freshman Family Fun Night at 7 p.m.
November 3 - Grades 6-12 - End of 1st Marking Period
November 6 - Winter Sports Begin
November 6 - Sr. High Fall Concert at 7 p.m.
November 7 - Board of Education Building Tour - Highland Elementary at 6:30 p.m.
November 7 - Board of Education Work Session - Highland Elementary Media Center at 7 p.m.
November 9 - Grades 6-12 - Report Cards Mailed
November 10 - Veterans Day Observance - No School
November 11 - Veterans Day
November 14 - Grades K-5 - End of 1st Trimester
November 17 - Middle School Fun Night from 6-8 p.m.
November 21 - Board of Education Regular Meeting at 7 p.m. in the Sr. High Media Center
November 22 - Superintendent's Conference Day - No School for Students
November 23-24 - Thanksgiving Recess
November 24 - Native American Heritage Day

Please continue to monitor the District's website for additional updates and news!