March 6th through March 10th, 2017 was National Breakfast Week which was celebrated at all district schools. Every student who received a breakfast during that week had their name entered into a drawing to win prizes per the Personal Touch Food Service.
There were 9 winners at each elementary school who received backpacks and the top three names drawn also received a $10.00 Target gift card.
There were 3 winners at the Middle and High Schools who each received a $10.00 Connors gift card and they also received 3 coupons for their choice of ala carte items.
Pictured below are the winners from Highland Elementary, J.T. Waugh Elementary and the Middle School. Congratulations!!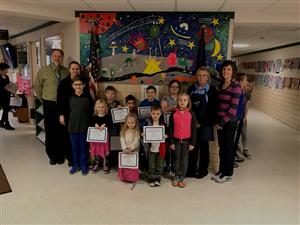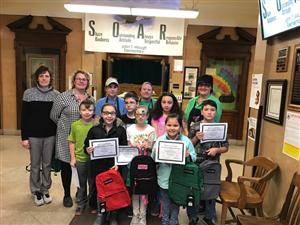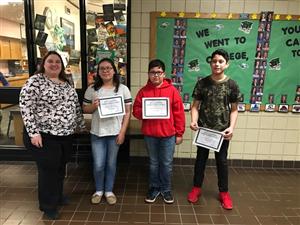 The District has a program called MySchoolBucks in which you can monitor your child's account and apply money into that account if you wish to. By participating in this program, your student will never need to worry about their lunch balance. Any questions regarding your child's account, please feel free to call the Food Service Director, Debbie Becker at 716-926-2291 or Sue Kowal in the Business Office at 716-926-2222.
Please note that students without money for their meals will be allowed to charge food purchases to their account up to a limit of $10.00 (
until April 1st
). After that, they will no longer be able to charge food purchases. In this case, children are provided with a sandwich to eat so that no child goes without eating. *Please know that there is no requirement for the District to provide a child with food if they do not have money to pay for a meal - the District follows this practice based on a local decision made by the Board of Education.* Please know in advance that if a child owes $10.00 or more on his/her account, a regular full school breakfast or lunch will not be provided - the alternate meal will be given in place of the regular meal. This is done because the District does not receive Federal and State funding on charged meals. We appreciate your cooperation in making sure your child's account balance remains positive so that they are able to fully participate in the District's Breakfast and Lunch programs.