Our Mission Statement

"Our number one priority is transporting our precious cargo safely from your door to the school door. Cooperation is our foundation, It takes the driver, attendant, parents and administration, working together to create a powerful bus safety team."
IMPORTANT SAFETY TIPS

THE DANGER ZONE

The Driver may not see you in the danger zone. This is the area near the bus tires and front bumper. Stay away from these areas.

THE BUS STOP

· Wait for the bus well away from the road.

· Be at your stop 5 minutes early then scheduled.

· Never run to the bus.

I See You - You See Me!!!

ALWAYS MAKE EYE CONTACT WITH THE DRIVER

If you cross the street to get on the bus;

· Watch for the bus driver to signal you when its safe to cross,

· look for the universal hand signal.

· Look left, right, left and listen for other vehicles that may not see you!

· When you cross, stay out of the danger zones.

HAND RAIL

· Use the handrail when entering and leaving the bus.

· Be sure to have a proper fitting back pack;

o A back pack that is to big will drag down the stairs.

o Make sure the adjustment straps do not hang down.

o Any attachments on the bag could get caught in the rail

MAKE IT A SAFE RIDE

·

Take a seat quickly once you get on the bus, other students are waiting to be picked up.

· Place your book bag on your lap and talk in classroom voices.

· Stay seated at all times, the bus makes frequent stops.

· Seat belts are available for all students. Per state law, students are not required to wear seat belts, If your want your child to wear one, they must be able to buckle and un-buckle it independently.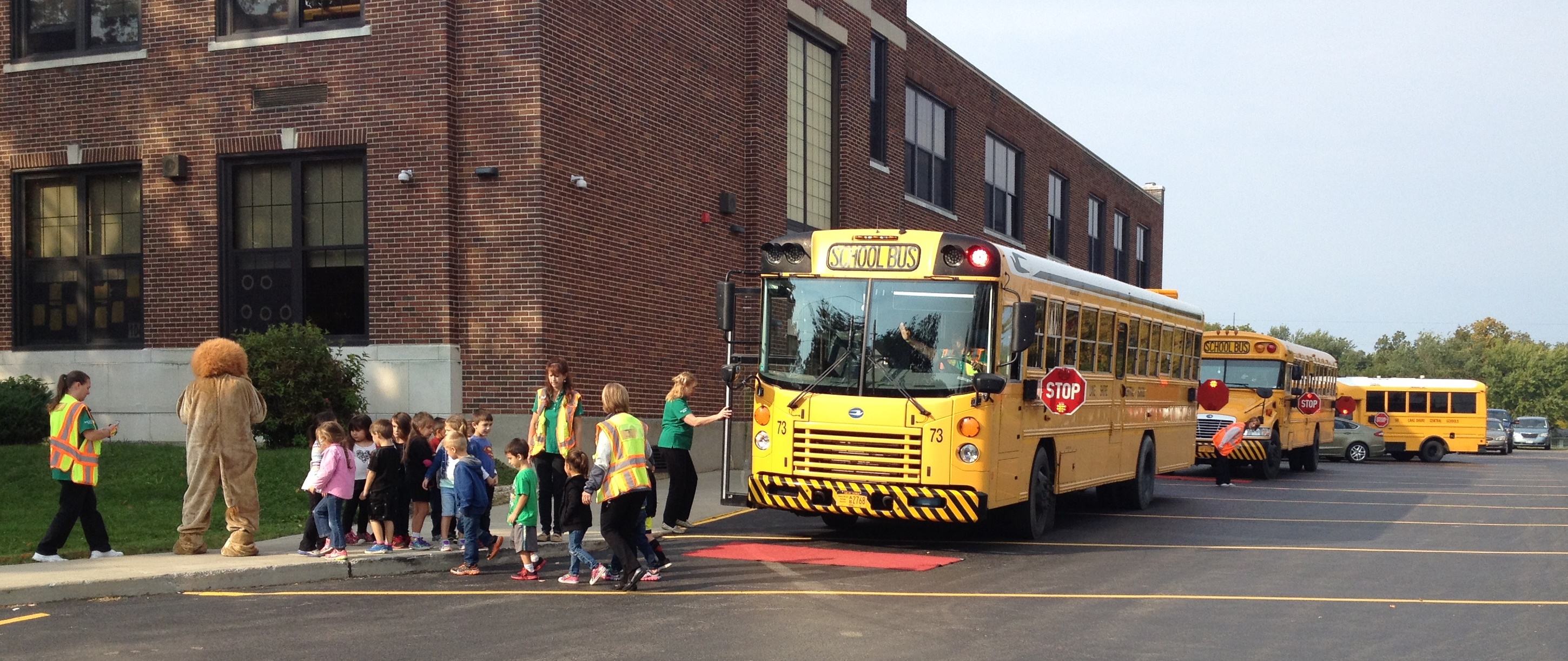 The Bus Safety Team is comprised of professional Lake Shore Central school bus drivers who annually visit each school. They teach students about proper bus behavior. Team members speak about and educate students on proper crossing procedures, emergency evacuation and treating fellow students with dignity and respect, not to bully.

"We tell students if they are being bullied they need to tell someone. We take bullying very seriously. Every student in our district has the right to feel safe on the school bus." The Lake Shore Bus Safety Team along with district administrators are committed to providing children a safe school environment. The safety team uses an interactive educational format which involves students from grades kindergarten through five on best bus behaviors and expands to media presentations of "Tears on the Highway" a movie based on distracting behaviors for grade six through eight. "We believe viewing this film will help educate young people today about the potential problems that can result from inappropriate behavior on the bus." Our team continues to be committed to student safety while your child is on the bus. Our web page is here for you to remain updated on the activities of the team through out the school year and to answer any questions you may have. Be sure to contact any of our team members with any suggestions you may have or any concerns that may arise while your child is on the bus.